With more than 800 student clubs, fraternities and sororities, and sports at the University of Maryland, students can get involved in any activity that piques their interest from ballroom dancing to working with the University of Maryland Campus Pantry.  There's no question that these clubs help students foster friendships, learn new skills, and gain teamwork and leadership experience while having fun.  But, many people may not realize that every club needs to have at least one faculty/staff advisor.  That translates into hundreds of UMD faculty and staff who play a role each year in developing student leaders and organizations outside of the classroom.
One outstanding advisor is recognized each year for their contributions to a student organization and campus life beyond their job responsibilities. This year's winner is Meredith Epstein, Sustainable Agriculture Lecturer at the Institute of Applied Agriculture and advisor for the Community Learning Garden (CLG).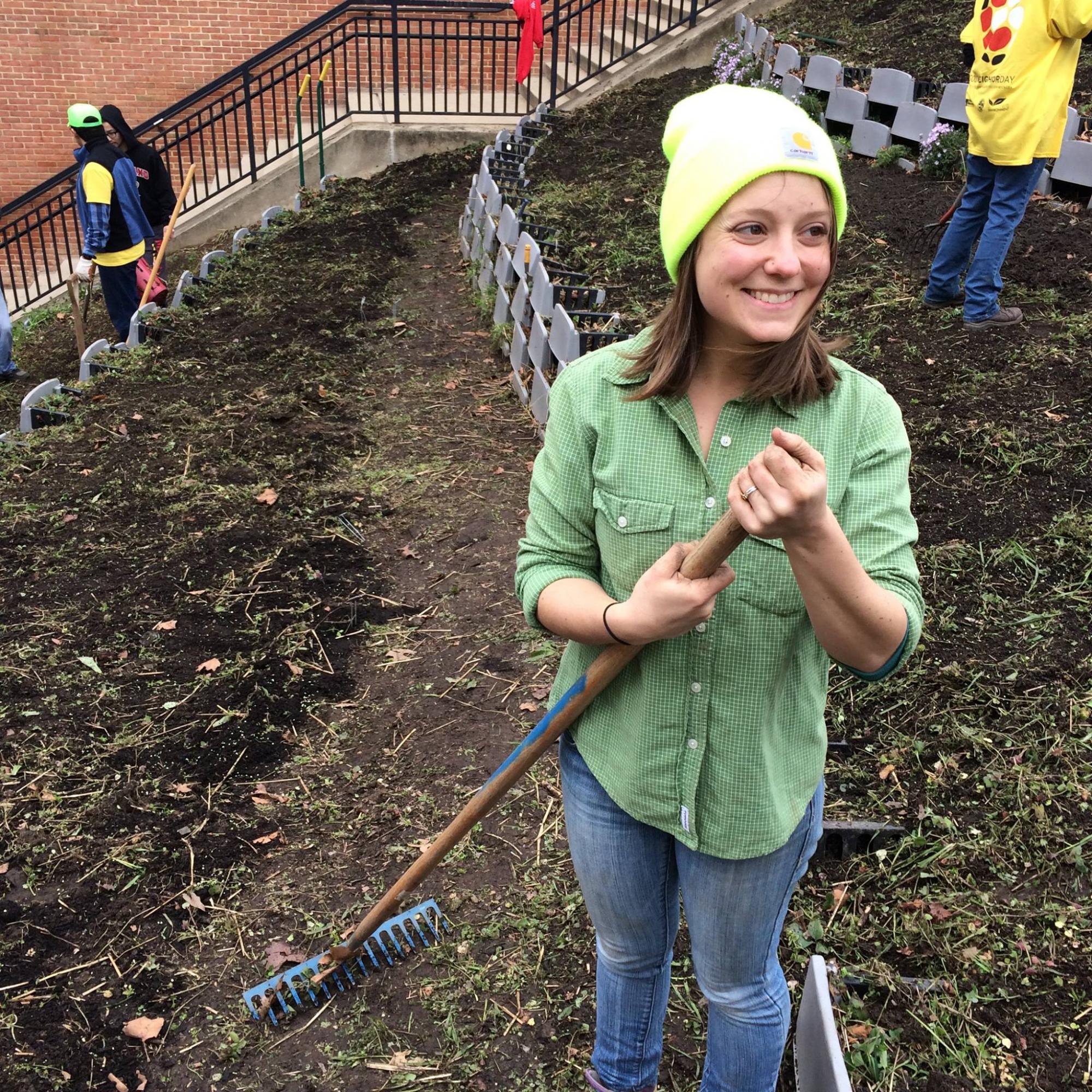 Epstein was nominated for the prestigious Linda Clement Outstanding Advisor Award by Nina Jeffries, a junior Environmental Science and Policy major and treasurer of the CLG.  Jeffries says, "Meredith is an outstanding advisor and role model.   She encourages students to take on projects that are important to their personal and career development, while simultaneously improving the garden's ability to be a fun, safe, and effective hands-on learning space."
In the fall of 2018, Jeffries was a freshman and a new intern for the CLG when she first met Epstein.  "One of my duties was to lead garden hours, sometimes directing groups of more than twenty students. This duty was scary at first, and before each hour I would talk to Meredith and she would run me through teaching the lesson and the activities that I should assign. Her encouragement and patience helped me tackle leading these volunteer hours with confidence and gave me a greater sense of what makes a good leader," Jeffries praises.
In addition to helping students develop leadership skills, Epstein teaches club members and garden volunteers sustainable agricultural practices, and she encourages each member of the leadership team to take on a special project of interest.  Students have taken on such projects as researching crop varieties, restoring the tea garden, tending the orchard, and writing grants.
Jeffries says that with Epstein's guidance she helped tackle the task of writing a water safety plan for the garden, which as an environmental science major enabled her to explore her interests in agriculture.  She credits this research experience with helping her land an internship at the Department of Justice and for setting her on a path to pursue agricultural and environmental law. 
A decade ago the CLG began with a grant from the Office of Sustainability and served as an outdoor teaching lab for the Institute of Applied Agriculture.  In 2013, Epstein took charge of the CLG and began building partnerships, training volunteers, organizing work hours, creating workshops, and leading tours.  Student involvement has grown from two volunteers in 2013 to a steady club leadership team of ten, five interns, and over 1,000 volunteers annually.  The CLG has become an iconic landmark on campus with its numbered "turtle logo signs" guiding visitors on a garden tour.  Its influence stretches across campus by connecting agriculture and food safety and security with classes, clubs, and service projects throughout the community.
Last year when students were sent home due to the COVID-19 outbreak, Epstein along with IAA alumnus Meg Smolinski of the UMD Arboretum and Botanical Garden kept the garden growing, and the CLG donated 100% of its harvest—over 1,200 pounds--to the Campus Pantry. The CLG was the focus of articles in The Diamondback, Facilities Management, Maryland Today, and NBC-4 for its contributions during the pandemic to help alleviate food insecurity within the campus community.  In 2021, the CLG continues its mission to feed Terps in need with expanded production of culturally relevant foods for the Pantry.
Recently, Epstein and Smolinski teamed up to secure several grants and awards to make physical, safety, and teaching/learning improvements to the space.  With its new wash station and irrigation system, the garden is pursuing GAP (Good Agricultural Practices) certification from the Maryland Department of Agriculture, hoping to become the first public garden to earn that distinction, allowing students to gain more experience with food safety practices. 
The CLG serves as a living classroom that Epstein has expanded beyond hands-on lessons of growing plants sustainably to experiential lessons that grow leaders, service projects, entrepreneurs, and a strong sense of community